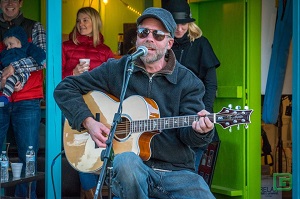 Singer/songwriter from York, PA, known for his original music which stems from rock, groove, funk, blues, bluegrass, folk and more. During live shows, Ed will also layer in versions of covers with his own take on the songs.
Ed's debut album, Carved in Stone, was released in 1999, recorded at Right Coast Recording with a number of amazing musicians from the York and Lancaster areas. Right Coast Recording is a great studio which has worked with a number of artists, including Billy Joel, R.E.M., Live, Jimmy Buffet, Yes, Steve Howe, Lenny Kravitz, The Wild Hymns and many more! Needless to say, this is a top notch studio!
Ed's second album, Till the End, was recorded over several years and released in 2013. This album was a challenge to him as he recorded all instruments in his newly built home studio. There are a few guest spots with some of his favorite local musician friends as well.
Ed has played many shows over many years, in many different venues. While not currently touring, you may catch him occasionally at a local pub in the York, PA area.
Bands/Projects:
Ed Van Wicklen: Booked solo
Textured Groove: Ed Van Wicklen (Lead Vocals, Guitar); Tony Aguirre (Drums, Vocals)(Aguirre Brothers, Hard Love, Red Eye); Gus Aguirre (Lead Guitar, Vocals); Jared Mills (Bass)(Into the Woods).
Flow: Ed Van Wicklen (Lead Vocals, Guitar); Jon Van Wicklen (Drums); Victor Wueschinski (Bass); Joel Venditti (Lead Guitar); Bill Huff (Saxophone and Vocals).
The BoogieMen

:

Ed Van Wicklen (Lead Vocals, Guitar); Ralph Weyant (Bass, Backing Vocals); Sam Panther (Drums).
:

Jim Topper (Lead Guitar and Vocals) and Ed Van Wicklen (Rhythm Guitar and Vocals).